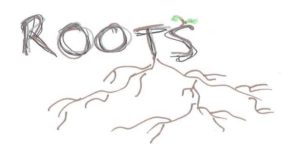 The ROOTS groups are a pilot project of the Spark of Humanity Network, a way to test whether such groups might be useful in other settings,    They hold a dual purpose:
to offer a setting in which people can strengthen and deepen their root systems, and

to engage and focus human energies for community benefit in an ideologically neutral setting.
After the 2016 US Presidential election, many of us were initially shocked, distressed, even disoriented—as if our social and civic landscapes were suffering a massive earthquake in the midst of a tsunami.  In that troubling aftermath, some Spark network members decided to offer a setting for people to strengthen and deepen their root systems, to re-connect with whatever grounds and stabilizes them. One precept for these groups is to leave ideologies at the door:  "No 'isms," as one person commented. 
By the 2017 US Presidential inauguration, many had regained a sense of energy and commitment, of a magnitude equivalent to the distress that had prevailed a few weeks earlier.   "But what to do with it?" a friend of the Network asked; "Where and how to engage and focus it?"   Again, the Roots concept suggested itself.  Each person has their own unique answer to these questions.   Just as every human being has a spark of humanity, and all sparks are made of the same stuff, so each spark has its unique access, its own root system, to draw in the wisdom and nourishment, the guidance and strength, to drive its own personal focus and purposes.   
Regardless of an individual's personal, professional, or political situation, the work of the ROOTS groups will support and help them find stability and effective paths of engagement..
In the pilot project, the format has included silent meditation,  check-ins, reading the SPARK booklet  (see the SPARK page for directions on making your own copies of the SPARK booklet),  conversation and guided meditation. Altogether lasting no longer than an hour and a half.
We may be chronicling the ROOTS project as it develops.   If you are interested in receiving e-mails notifications of such developments or any others, please provide your e-mail address 
Winter of 2018, (January – March) meetings will be held in the Hayes Room of the Kellogg Hubbard Library on Main Street in Montpelier, Vermont.
First Fridays of each month at 1:30 PM  (beginning January 5)
Last Thursdays of each month at 6:00 PM (ending March 29)
Meetings last no longer than an hour an a half.
Our format currently is:
silent meditation,
gentle stretching
guided meditation
check-in
conversation
guided meditation.
Feel free to join us to try it out, and/or e-mail us through this page:  roots@sparkofhumanity.net
Meditations:
Roots Meditation
Spark to Roots Meditation
Spark to Roots Meditation